The touristic neighborhood Liberdade is the stronghold of the Japanese community in the city, the biggest Japanese colony in the world outside Japan.
I love the architecture of Mc Donald's and others builds. The lights on the streets, make me feel like I am in Japan.
If you want to buy some Japanese food, candy or gifts this is the place go!
Also you can go to a typical Japanese karaoke, to see the Japanese culture and their way of having fun.
You do not only need have Japanese food, you can also find some of the cheapest and tastiest Chinese food in Brazil.
The restaurant that I really like is Rong He, and one of the best dishes there are the fresh Noodles. They are freshly cooked and you can see the Chef preparing the pasta through the kitchen window. It's a culinary show!!
On the weekends, you have to arrive before 11:20, because it's so busy and it's pretty common to see huge lines (for all the restaurants).
Thanks to the city's million-strong Japanese and Brazilian-Japanese population, sushi and sashimi are at the heart of São Paulo's gastronomic industry, a major food group for food-loving Paulistanos, who appear to need regular fixes of the stuff to stay happy and healthy. Revered masters of the art, such as Jun Sakamoto, of the eponymous restaurant, command eye-watering prices, but there's something for every budget in Liberdade, SP's Japantown. And if affordability, simplicity and quality are in order, old-school Yamaga is a consistently reliable choice. The wide menu boasts ramen, teppanyaki, yakisoba and more, plus sushi sets. Consider a combinado, which comes with a mix of sushi and sashimi plus a hot dish of your choice (gyoza, tempura) . It's technically for one person, but if you order some of the exceedingly tasty miso soup on the side, there'll be plenty for two.
For a traditional japanese meal, you can go to Sushi Isao restaurant. There are lot of varieties of food, with fresh fish, oysters, shrimp,  octopus, fish roe and so on. It's a self-service restaurant, so you can eat  all you want. Here in Brazil this type of restaurant is called "rodizio".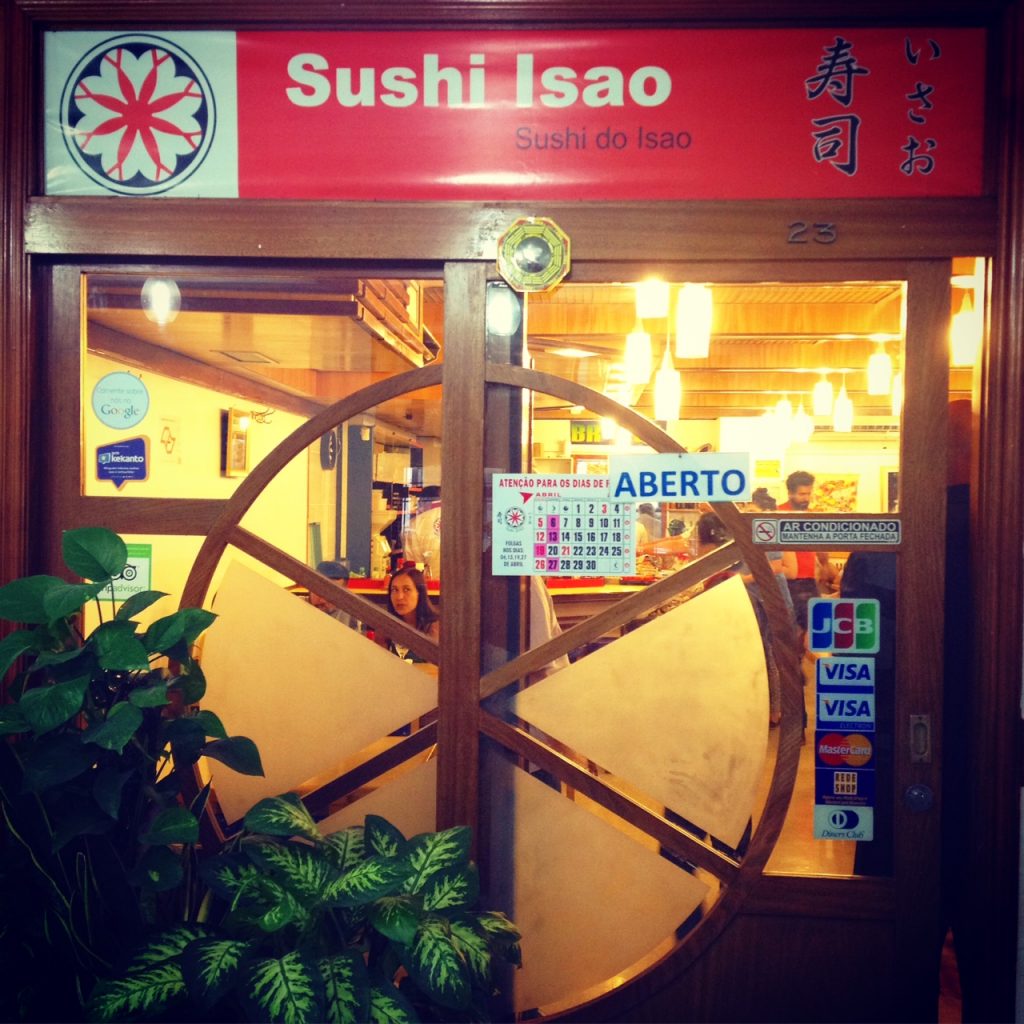 Pastels are a typical Brazilian food. So if you are looking for the best, you must go to Yoka restaurant. It's always crowded, but it's incredible. The place is simple and most of the clients are Japanese so they have a Japanese menu. They have a lot of types of pastel, like: White cheese, chicken, mozzarella with tomatoes and so on.
If you want to eat traditional Japanese noodles, you have to go to Aska restaurant. They have the best noodles in São Paulo. Make sure to ask for the large portion. Chashu's noodles with shoyu sauce are amazing and the beef and onion gyoza is just insanely delicious! You are guaranteed to have an awesome meal here.
Other information:
Jan – Chinese New Year;
April – Hanamatsuri – Flowers Festival;
June – Sumo championship;
July – Tanabata Matsuri – Stars Festival;
December – Toyo Matsuri – Oriental Festival and Moti Tsuki – New Year Festival.
Places of interest:
Liberdade Open Market
Saturday and Sunday 8am-6pm.
Historical Japanese immigration Museum in Brazil
Temple Busshinji – Soto Zen Shu Community
Temple Quannin do Brasil
 Getting there: Liberdade metro station (blue line)
It is missing some information, write for us!