Here it is listed the top 10 budget restaurants and cafes in São Paulo
São Paulo, Brazil's biggest city can be pricey, but we hunt down 10 places to eat that won't break the bank, with specialities from the country, and beyond
Vatapá, acarajé, caruru: this exotic mouthful of sounds, ripe for rolling around the tongue, is matched only by the exoticism of the ingredients themselves, which come together to make one of the most emblematic dishes in north-eastern Brazil's superb cuisine. A street-food staple in Salvador, the capital of the state of Bahia and the epicentre of Afro-Brazil, the deep-fried, black-eyed-pea patties (acarajé) are split and filled with vatapá (a thick yellow paste made from ground shrimp and peanuts, coconut milk and thickened palm oil), then crowned with a handful of shrimp and a dollop of caruru, a saucy little condiment made from okra. The acarajé at this five-square-metre hole-in-the-wall joint at the top of a bar-packed street close to Mackenzie University are served with grace, charm and warm smiles by Fátima and Miri de Castro. The Bahian sisters, who abandoned rat-race São Paulo careers to launch this place instead, taught themselves to make acarajé over a period of intense experimentation before opening in early 2013. And, if the happy, friendly throng that gathers here nightly for the snacks, they've cracked it.
Where: Rua Dr. Cesário Mota Júnior. 611, São Paulo
When: Monday to Thursday from 6pm to 10pm and Saturday from 1pm to 6pm
Getting There: 12 minutes walking from Republica Metro Station ( Red line)
website: facebook.com/tabuleirodoacaraje
2 – Acrópoles, Bom Retiro, São Paulo

Still under the command of 96-year-old owner Thrassyvoulos Petrakis, who worked as a waiter here for a decade before buying the business in the early 1970s, this well-loved classic has been thriving since 1959, in the heart of Bom Retiro, one of São Paulo's most traditional immigrant neighbourhoods. There's often a wait outside on weekends; best to just order a bottle of ice-cold beer and consider it part of the experience.
Once you're settled in the simple, pretty blue-and-white restaurant, start with a generous half-portion of Greek salad, or the starter platter, with soft cheese, pickles, aubergine, hummus, potato salad and tender chunks of octopus. To order your main course , squeeze through the tightly packed tables to the kitchen and select whatever catches your eye from an array of dishes that includes roast lamb, salmon with seafood risotto, stuffed cabbage, and sublime stuffed squid, which comes with tomato rice studded with succulent octopus. The moussaka is heavenly: crunchy and cheesy on top, and intensely savoury below. A fat slice of custardy galaktoboureko, with an exquisite filo top, should finish you off nicely.
Where: Rua da Graça 364, São Paulo
When: Monday to Sunday from 7:30 to 10pm
Getting There: 16 minutes walking from Luz Metro Station ( Blue line)
Website: restauranteacropoles.com.br
3 – Mocotó, Vila Medeiros
It's a schlep to get there: Mocotó is some 40 minutes from downtown São Paulo by car (or take the blue line metro to Tucuruvi, then it's 10 minutes in a taxi). But if you can manage it, and if you can handle a 40-minute to two-hour wait for a table at weekends – sipping delicious, creative caipirinhas while you wait – this is a don't-miss chance to try north-east Brazilian food at its very best. The restaurant, which appeared (at no 16) in last year's list of 50 best restaurants in Latin America, is run by Rodrigo Oliveira alongside his father José, the formerly humble boteco's original owner. It is famous for faithfully produced classic dishes that are somehow, every time, twice as good as you've ever had them before – and cheaper than seems possible for pricey São Paulo.
Try the escondidinho de carne seca, a cassava-topped shepherd's pie made with jerked beef, or the sumptuous, melting joelho de porco (pork shank), with a pile of cuscuz (Brazilian couscous). Ordering a procession of dishes to share over a long afternoon's grazing is the perfect way to go here: try crunchy cubes of fried tapioca with a sweet and spicy dipping sauce, and out-of-this-world torresmo (meaty, homemade pork scratchings, ). Oliveira recently opened a sister restaurant next door, Esquina Mocotó, with a fancier menu and slightly higher prices, which has been received just as rapturously as the original by SP's gastronomics brigade.
Where: Avenida Nossa Senhora do Loreto 1100, São Paulo
When: Monday to Sunday from 7:30 to 10pm
Getting There: 9 minutes by car (taxi/uber) from Tucuruvi Metro Station (Blue line)
Website: mocoto.com.br
4 – Rinconcito Peruano, Santa Efigênia
A little slice of Lima in a very old, very run-down part of central São Paulo, Rinconcito Peruano ("little corner of Peru" in Spanish) is humble, unpretentious, cheap as chips, and almost invariably rammed. There's no sign, just an open doorway and a flight of stairs; so in you go, and carry on upwards, past the main salon to the breezy top floor.
The varied menu features soul-warming soups (try the Minuta, or fried chicken and Peruvian-Chinese fried rice, chaufa), but the fresh, delicious ceviche is the king of dishes here, and it comes in small, medium or king-size servings, piled on a bed of potato and sweet potato and topped with fat golden kernels of toasted, crackly corn. The neighbourhood is extremely insalubrious, so this is not a place in which to wander about, and certainly not at night. Go for a slap-up lunch instead, or if it's night-time, take a taxi right to the door.
Center Zone
Where: R. Aurora, 451, Santa Ifigênia
Getting There: 7 minutes walking from Republica Metro Station (red line)
Where: Av. Vieira de Carvalho, 86
Getting There: 2 minutes walking from Republica Metro Station (red line)
Where: Rua Guaianazes, 167
Getting There: 8 minutes walking from Republica Metro Station (red line)
East Zone
Where: Rua Serra de Bragança, 626
Getting There: 14 minutes walking from Tatuapé Metro Station (red line)
When: Tuesday to Sunday from 12h to 3pm and from 7pm to 11pm
Website: www.facebook.com/rinconcitoperuanooficial
 5 – Sabores de Mi Tierra, Pinheiros

With his well-regarded Suri Ceviche Bar already going famously, chef Dagoberto Torres opened this tiny Colombian joint with his aunt Magdalena in early 2013 in the garage of a Pinheiros house just opposite the city's Goethe Institute. The menu is simple: arepas (flat, white corn bread) and patacones (flattened, fried discs of plantain that hold their topping perfectly, rather than collapsing at the first bite) with a choice of toppings: shredded, stewed beef or chicken; linguiça sausage with onion; baked ham (pernil); cheese; or beans with guacamole and pork scratchings. The plump, nicely spongy arepas are a bargain  (or with just cheese), making this a popular spot for after-work get-togethers over snacks and cold beers, to which you help yourself from the fridge.
facebook.com/pages/Sabores-de-Mi-Tierra
Where: Rua Lisboa 971, São Paulo
When: Tuesday to Friday from 9pm to 11pm; Saturday from 2pm to 11pm; Sunday from 1pm to 4:30pm
Getting There: 18 minutes walking from Fradique Coutinho Metro Station (Yellow line)
Website: www.facebook.com/Sabores-de-Mi-Tierra-158486450966735/
6 – Bar do Biu, Pinheiros
A browse round the Saturday bric-a-brac market at Praça Benedito Calixto followed by an afternoon's lounging at nearby Bar do Biu is something of a São Paulo institution. This deceptively spacious boteco is an exemplary specimen of the no-frills bars/lunchrooms to be found the length and breadth of Brazil, where you can get a square meal (prato feito or prato comercial), featuring your choice of meat with a serving of salad, fries, rice, beans and farofa – toasted cassava meal. Here at Bar do Biu, grab a pavement table if you see one, or make your way past the cool, tattooed crowd to the back, where there's plenty of seating. Order maybe a caipirinha then get down to business with a slap-up feijoada (Brazil's emblematic pork-and-bean stew complete with mixed grill, shredded kale and farofa) or the house specialty, baião de dois. That's rice and black-eyed peas jumbled with shreds of jerked beef and shards of bacon, sausage and squeaky queijo de coalho cheese – enough for two, especially if you order a pork chop on the side. Shake some bottled butter or hot sauce over it, and send it on its way with an ice-cold bottle of Brahma.
Where: Rua Cardeal Arcoverde 772, São Paulo
When: Monday, Tuesday, Sunday and holidays from 11am to 6pm
Wednesday, Thursday, Friday and Saturday from 11am to 10pm
Getting There: 11 min walking from Clinicas Metro Station (green line)
Website: www.bardobiu.com.br
7 – Yamaga, Liberdade

Thanks to the city's million-strong Japanese and Brazilian-Japanese population, sushi and sashimi are at the heart of São Paulo's gastronomic industry, a major food group for food-loving Paulistanos, who appear to need regular fixes of the stuff to stay happy and healthy. Revered masters of the art, such as Jun Sakamoto, of the eponymous restaurant, command eye-watering prices, but there's something for every budget in Liberdade, SP's Japantown.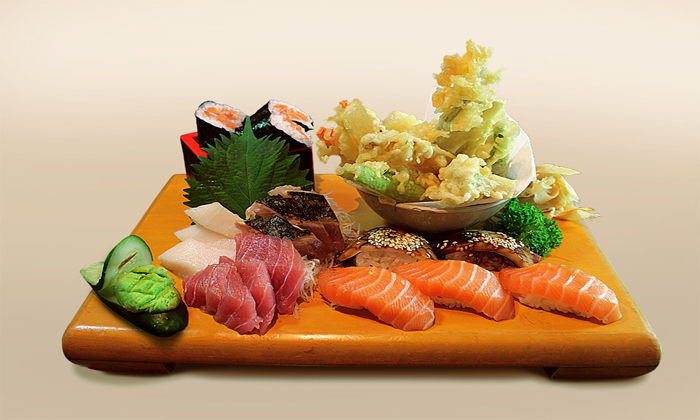 And if affordability, simplicity and quality are in order, old-school Yamaga is a consistently reliable choice. The wide menu boasts ramen, teppanyaki, yakisoba and more, plus sushi. Consider a combinado, which comes with a mix of sushi and sashimi plus a hot dish of your choice (gyoza, tempura). It's technically for one person, but if you order some of the exceedingly tasty miso soup on the side, there'll be plenty for two.
Where: Rua Tomás Gonzaga 66, Liberdade
When: Monday,Tuesday, Thursday and Friday from 11:30am to 02:30pm / from 06:30pm to 11:00pm
               Saturday from 12:00pm to 03:00pm / from 06:30pm to 11:00pm
               Sunday from 12:00pm to 9:00pm
Getting There: 5 min walking from Liberdade Metro Station (blue line)
Website: www.restauranteyamaga.com.br
8 – São Cristovão, Vila Madalena
If you're visiting São Paulo and are interested in Brazilian football make the city's football museum your first stop – and this fantastic, atmospheric bar your second. Practically every inch of the walls and ceiling is plastered with footie-themed memorabilia – 3,500 mementos from the owners beloved São Cristovão football club and others, providing a free history lesson of the Brazilian game. Vila Madalena is São Paulo's most established nightlife destination and Rua Aspicuelta and the surrounding streets are full of great little bars. São Cristovão is one of the best, serving excellent chopp (draft beer) and food (try the pot-roast-like carne de panela). It gets crowded, so if you can't get a table, take a stroll to one of the many other bars nearby.
Where: Rua Aspicuelta 53
When: Monday to Sunday from 12:00pm to 02:00pm
Getting There: 14 min walking from Sumaré Metro Station (green line)
Website: www.facebook.com/barsaocristovao/

As recently as two years ago, Brazilian beer meant watery (but frosty!) lager brewed to stave off heat exhaustion in the tropical sun but with little or no accounting for taste or style (we're talking to you, Brahma, Skol, Antarctica and Nova Schin). Then the craft beer floodgates opened. This hybrid neighborhood bar/microbrew shop has little atmosphere to speak of, but beer fiends quickly made it their temple, and it's here you will find the best and rarest of Brazil's burgeoning craft beer scene. There are 10 choices on draft (a revelation in itself; samples encouraged) and another 400 or so bottled options, including Invicta from São Paulo, Wäls from Minas Gerais, Bodebrown and Way from Paraná. If you take your ales seriously, this is Brazil's holy grail. Best of all, prices are the same whether you drink in or take away. Pack a cool box!
Where: Rua Vupabussu 305
When: Monday to Wednesday from 12:00pm to 12:00am
             Thursday to Saturday from 12:00pm to 01:00am
             Sunday from 12:00pm to 12:00am
Getting There: 15 min walking from Pinheiros Metro Station (yellow line)
Website: www.altodospinheiros.com.br
10 – FrangÓ, Freguesia do Ó
One of the city's most classic botecos, FrangÓ sits on atmospheric square off the beaten path in historic Freguesia do Ó by one of São Paulo's oldest cathedrals, Our Lady of Freguesia do Ó (1901). But the communion here is of a different kind entirely: with more than 500 Brazilian and imported beers available by the bottle, this was once Sampa's only haven for serious beer geeks. Today, it no longer stands alone, but it continues to draw purists not only for its beer menu, but its famous grilled chicken, served with farofa (toasted manioc flour) and salad (for two people) and famous coxinhas (10 unit). The most coveted seats line the sidewalk, but the cavernous indoor space, lined with vintage beer posters and well-worn wooden alcoves, is an easy spot to settle in for the long haul.
Where: Largo da Matriz Nossa Senhora do Ó, 168
When: Ter-Qui: 11:00 às 00:00
             Sex-Sáb: 11:00 às 02:00
             Dom: 11:00 às 19:00
Getting There: There isn't Metro near, so its better go by Taxi/Uber.
Website: www.frangobar.com.br
For more information leave a comment!
Information from The Guardian