I planned my vacation to Ceará in April. On March, April and May is likely to be a period of rain in the state, but even if It's raining, It's still warm with at least 25ºC.
I was looking for some not so popular beaches, and a few beaches that everybody says is amazing.
The route was:
4 days Canoa Quebrada
6 days Flecheiras, Mundau and Guajiru
4 days Camocim
6 days Jericoacoara
CEARA
In a country of glorious coastlines, Ceará has one of the most glorious of all: almost 600km of beautiful and varied beaches, from idyllic little palm-fringed bays to 20km strips washed by ocean breakers. From the busy urban beaches of Fortaleza, to hip Jericoacoara, to the smallest of fishing villages where people still sail jangadas (triangular-sailed fishing boats) and live in thatched-roof homes, Ceará has everything you could wish for in terms of beach ambience. Much of the coast is backed by large expanses of high, white dunes, lending a starkly elemental touch to the landscape, while the waves and winds provide some of the world's best conditions for kitesurfing, surfing and windsurfing.
FORTALEZA
The major airlines flying to Ceará are to the Capital Fortaleza. And from there you will go to the other amazing beaches in the state.
I don't like big cities, but follow some tips about Fortaleza.
Fortaleza is not so safe, so take care with your things. Bring with you just some money and a document (don't need to be a passport). Don't walk around with golden jewels, expensive watches and so on.
The best place to be hosted is at Beira Mar Avenue. It's a great touristic point with restaurants, bars and places to go.

Or if you would like a calm place, stay at Beach Park.
Places to go:
Feira do Beira Mar is an open air market, in front of the beach  with a lot of stalls selling local apparel, handicraft, Brazilian nuts, gifts, cachaça and much more
When: Every day at 5pm to 22pm
Where: Av. Beira Mar
Mercado Central is  a circular building with 500 really small stores inside. The stores sell  local apparel, handicraft, Brazilian nuts, gifts, cachaça and much more
When: Monday to Friday at 8am to 6pm. Saturday at 8am to 4pm and Sunday at 8am to 1pm.
Where: Av. Alberto Nepomuceno, 199, Centro
Dragão do Mar Center of Art and Culture was inaugurated in April 1999.
On your almost 30 thousand square meters of area, there are spaces like Cearense Culture Memorial, the Contemporary Art Museum of Ceará, the Menezes Pimentel Public Library, a modern theater room, two cinema rooms, the Rubens de Azevedo Planetarium, the Sérgio Mota Open Theatre, an auditorium and classrooms.
When: 8am to 10pm
Where: R. Dragão do Mar, 81 – Praia de Iracema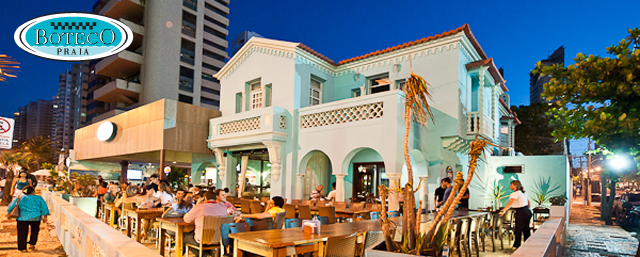 Boteco Praia is an excellent bar with live music. Generally very crowded so you could have to wait for a table but it really worth it! They have a variety of barbecue like meat, chicken, shrimp, cheese and so on. Anybody among the staff would be able to speak at least a basic english. It is really difficult to communicate with them.
When: Monday to Friday from 5pm  to 3am Saturday  to Sunday from 12:00 pm to 3am
Where: Avenida Beira Mar, 1680

Barraca Guarderia is focused on young people, Guarderia brings a new concept for the beach restaurants ("barracas") of Fortaleza. It's place to spend the afternoon on the beach, with a beautiful structure, good music, DJ, simple but nice menu and without all those people selling things and asking for money that are common on the beaches of Fortaleza .
When: 16pm
Where: Av. Clóvis Arrais Maia, 4399 – Praia do Futuro

Croco Beach has a good infrastructure with clean bathrooms. So if you would like to feel safe and comfortable on the beach this is the place to be. There are many different places you can choose from, and the best one is in front of the beach. Behind this one, there is a sand line with tables under palm trees where you can be protected from the sun. And then there are more tables beside the swimming pool.
The food is good and not expensive, but on the beach there are a lot of guys trying to sell you somethings like fake sunglasses, jewels and so on. You should just ignore them. They also offer massages for a very nice price.
When: 8am to 6pm
Where: Av. Zeze Diogo 3125 – Praia Do Futuro
Obs: There are ATM's in the neighborhood.