What is geek?
Geek is an English language slang term that refers to people who are interested in technology, electronics, games, science, comic books, movies, anime and series.
São Paulo, the Brazilian city that brings together the most diverse nationalities, cultures and urban tribes, is also the biggest geek refuge in the country. The number of fans for this curious universe is growing every day and there are always news related to the theme. The movement is so strong that people from São Paulo are no longer surprised when faced with "cosplay" (abbreviation for "costume play", people dressed as traditional characters from this universe) along the streets of neighborhoods such as Liberdade.
São Paulo is a paradise for geek culture fans. Here you can find entire streets specialized in products that go from technology equipment and pop articles to galleries dedicated to drawing and illustration, as well as mechatronic dinosaurs, interactive museums, a variety of thematic stores and bars, libraries focused on comics and manga, games, technology and theater mega events, besides the alternative group meetings of RPG (Role Playing Game), cosplays and swordplay – a combat that mixes martial arts and sword fighting.If you do not consider yourself a geek, be sure that some of these attractions will arouse your curiosity and take advantage to discover that somehow this world is part of your life. Grab your towel, cast an avada kedavra (a mortal spell form Harry Potter´s stories) on laziness and may the force be with you!
Meeting points
Geeks are everywhere! In every corner of São Paulo there are places that work as a meeting point for different activities. The following places are some of these locations and we will guide you how to best enjoy them. Places that will certainly leave you AFK* to enjoy good times!
* Away from keyboard"
1 The main trade center for electronic products
Santa Ifigênia Street, the main trade center for electronic products – with news and releases from the world of technology at attractive prices – is also a geek paradise.Last generation computers, the newest games and consoles in the market, sound and lighting equipment and many types of gadgets (smartphones and tablets) are
the specialty of the stores on this street. Close to holidays such as Christmas and Children's Day, you can find even more attractive prices. But if you dream about cameras and photographic equipment, choose the streets 7 de Abril and Conselheiro Crispiniano, both in the República neighborhood.
Where:
Rua Santa Ifigênia Close to Metro, Luz Station, Blue Line and CPTM stations
Rua Sete de Abril Close to metro, Republica and Anhangabaú station, Red Line
Rua Conselheiro Crispiniano Close to metro, Republica and Anhangabaú station, Red Line
2 Music Gallery
Nearby, in the famous Avenida São João, it is located the Grandes Galerias Shopping Center, popularly known as "Galeria do Rock" (Rock Gallery). The nickname was given to the place by its customers in the 70s, when many record stores had settled there. Nowadays, there is more in the gallery than just rock: in its more than 450 stores, there is a huge range of styles and trends among the public profiles, products and services offered. With more than twenty thousand visitors per day, it is always filled with young and old regulars who give life to its halls. The geeks' object of desire – like comic books, mangas and t-shirts with various prints can be found throughout the gallery.
Where: Av. São João, 439 – República ( By Metro: Republica Station – Red Line)
When: Monday to Friday, from 10 am until 6:30 pm and Saturday, from 10 am to 6 pm

Still in São Paulo downtown, there is the curious Liberdade District, a convergent spot of the oriental community. There, tourists and locals can experience the richness of Japanese and Chinese cultures, whether through architecture, the incredible flavors in various restaurants, grocery stores, the shops filled with housewares, lively karaoke bars and even the Buddhist temples.
In the middle of so much tradition, culture and diversity, it is possible to find throughout its streets endless stores to buy Japanese comics, manga, themed accessories, DVDs, games, dolls and stuffed animals inspired by the Nipponese productions, collectibles, nerd themed t-shirts and costumes for cosplay. If you do not know very well where to find them, go to Sogo Plaza Shopping, you will certainly find them there. Characterized by diversity, the mall brings together all the news that Otakus (japanese comic fans) and Cosplays love. If the costumes available do not please you, choose one of the tailors specialized in this peculiar kind of clothing and get your on demand characterization. On weekends, these groups usually meet in Liberdade, near the exit of the homonymous subway station.
Sogo Plaza Shopping
Where: R. Galvão Bueno, 40 – Liberdade
Getting there: Liberdade Metro station -Blue Line
When: Monday to Saturday from 10 am to 7 pm and Sunday from 10 am to 4:30 pm
If a walk in the park leads you to the typical outdoor picnic with checkered tablecloth and wicker basket, sorry to say, but you made a mistake my friend! In some city parks it is possible to experience something unusual: true medieval battles able to arouse emotion even in Cersei Lannister (Game of Thrones character)!
Groups of swordplay meet on Sundays at Ibirapuera Park and Villa-Lobos Park for arduous battles! The scene seems to come straight out of a history book. Dressed as
"Knights Templar", the clans duel using swords, axes, hammers, spears, shields and armors – all usually made of PVC and coated with foam. One who suffers one or two strikes first loses the battle, but everyone wins with all this fun.
Where: Av. Pedro Álvares Cabral, s/n
When: Daily from 5 am to midnight(from Saturday to Sunday opened for 24 hours)
Draikaner meeting to play swordplay
When: Sunday from 2 pm to 6 pm, behind the amphitheater (gates 2 and 10)
www.draikaner.wordpress.com
5 Jogging at Villa Lobos Park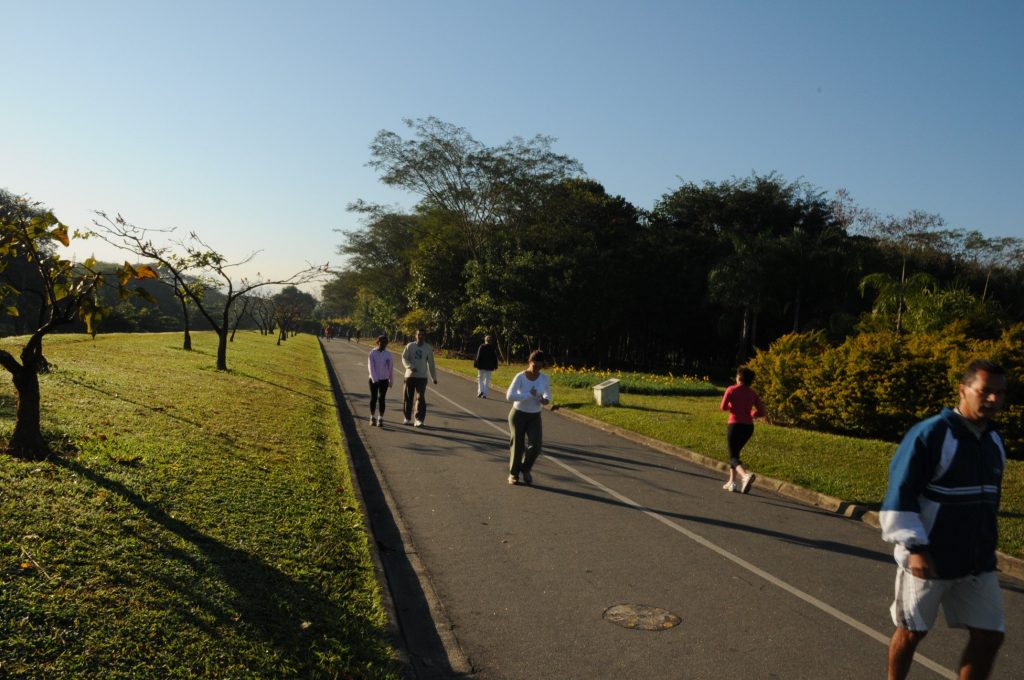 Darastrix meetings to play swordplay
When: 1st and 3rd Sundays of the month at Ilha Musical
www.darastrix.com.br
Where: Av. Professor Fonseca Rodrigues, 2001 – Alto dos Pinheiros
When: Daily from 5:30 am to 7 pm
www.parquevillalobos.sp.gov.br
Cinemas IMAX / IMAX Cinemas
6 Espaço Itaú de Cinema

Going to the movies underwent a revolution when, in 2009, arrived here the first room with IMAX technology in Brazil, the Espaço Itaú de Cinema. But after all, what is IMAX? IMAX comes from the contraction of "image maximum", which aims to provide the ultimate experience in image transmission. And this experience is possible only through some technology resources, such as a special screen for the projections far greater than the conventional ones.
While regular screens have generally 12 x 5 meters, the IMAX screens are 22 x 16 meters. It is almost six times more display area, which allows us to see clearly every detail. The curvature and resolution of the screen plus the refined sound system also contribute to ensure a unique experience. Imagine watching your favorite
heroes so closely and with such a perfect resolution so that it appears you can pick up Thor's hammer and give it back in time for him to defeat Loki? Cowabunga (fun and joy expression)!
Where: Bourbon Shopping Center – R. Turiassu, 2100 – Pompeia
When: Monday to Saturday from 10 am to 10 pm and Sunday from 10 am to 8 pm
7 Cinépolis JK Iguatemi

If the experience of watching your favorite movies in IMAX is not enough to attract you, the 4D room Cinépolis JK Iguatemi surely will. Chairs that move according to the maneuvers of a spaceship or water droplets splashing when there is a great storm on the high seas make the spectator to participate in the story, being transported to the reality behind the big screen. Just be careful when watching Alien vs. Predator … a green and sticky slime can reach you!
Where: Shopping JK Iguatemi – Av. Pres. Juscelino Kubitschek, 2041 – Itaim Bibi, São Paulo
When: Monday to Saturday from 10 am to 10 pm and Sunday from 12 am to 8 pm